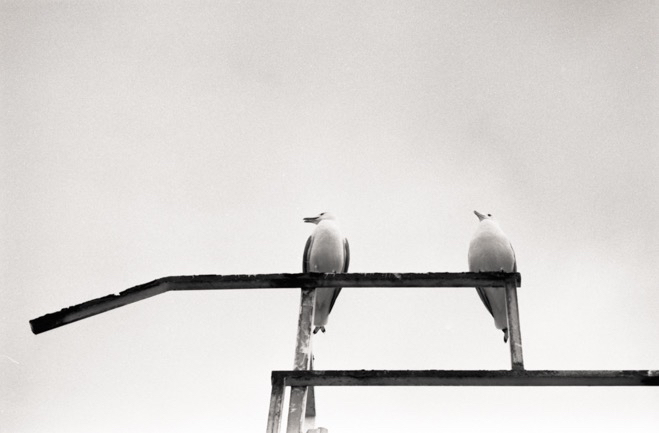 Last December 2013 was my forth visit to Portugal. The first two to Madeira and the second two to the Western Algarve. On these trips I just took a compact camera for tourist snaps. It was a holiday. This last trip however,  I decided to take the Contax G1 with 28mm, 45mm and 90mm Carl Zeiss lenses. The G1 is a superb piece of equipment that comes with the best 35mm lenses in the world. I had no excuse. The thing I would say about Portugal is that the coffee is simply AMAZING! Fantastic! I could drink gallons of it. Oh, I did! The food too, superb! Eating outside at night is just wonderful. So relaxing, natural and just wonderful. I just love it! Why people want to come to the UK, that damp, wet and  miserable country full of damp, wet and miserable people. I just do not know! You Southern Europeans don't know how good you have it!
What I didn't like, and this is no ones fault except mine, is I felt completely out of place. All that was green and familiar was gone. The terrain is just so completely different. Semi-arid scrub, irregular, undulating, lacking cohesion, chaotic. The familiar lines of the British landscape are completely absent. No wonder, I was in Portugal. I was out of my photographic comfort zone and to be honest I would need a month or two just wandering around before I would be able to "see" the landscape. More suited to monochrome I think as the Portuguese winter landscape is barren with a minimal colour palette.
I did enjoy my stay though. The coffee, the food, and the few native people I met were nice enough. I would have liked to had more interaction with the locals, to get a feel for them and to determine their character.
I like Portugal! With a population of 10 million or so people in an area about 80% the size of England. Portugal is also Britain's oldest ally. The agreement between the two nations signed in 1373 is the worlds oldest agreement still in effect. It was this agreement that England became involved in the Peninsular War. I am ashamed to say the Portuguese have been much more faithful to the agreement than the British. For that, the whole Portuguese nation and people get my utmost respect. Portugal is also home to the finest Moorish castles in the Peninsular. The Spanish want to obliterate the Moors from their history, the Portuguese embrace it. More respect there.
Now onto the photos. Basically, I am not happy with them. I can do better. They are basically little more than snap shots. I wasn't trying that hard either and will rectify this next time when I take the Rolleiflex and shoot monochrome medium format. These photos made on a Contax G1 with Carl Zeiss 28mm, 45mm and 90mm lenses. Kodak Tmax100 semi-stand developed in Rodinal 1:120, water wash, alkali fix.