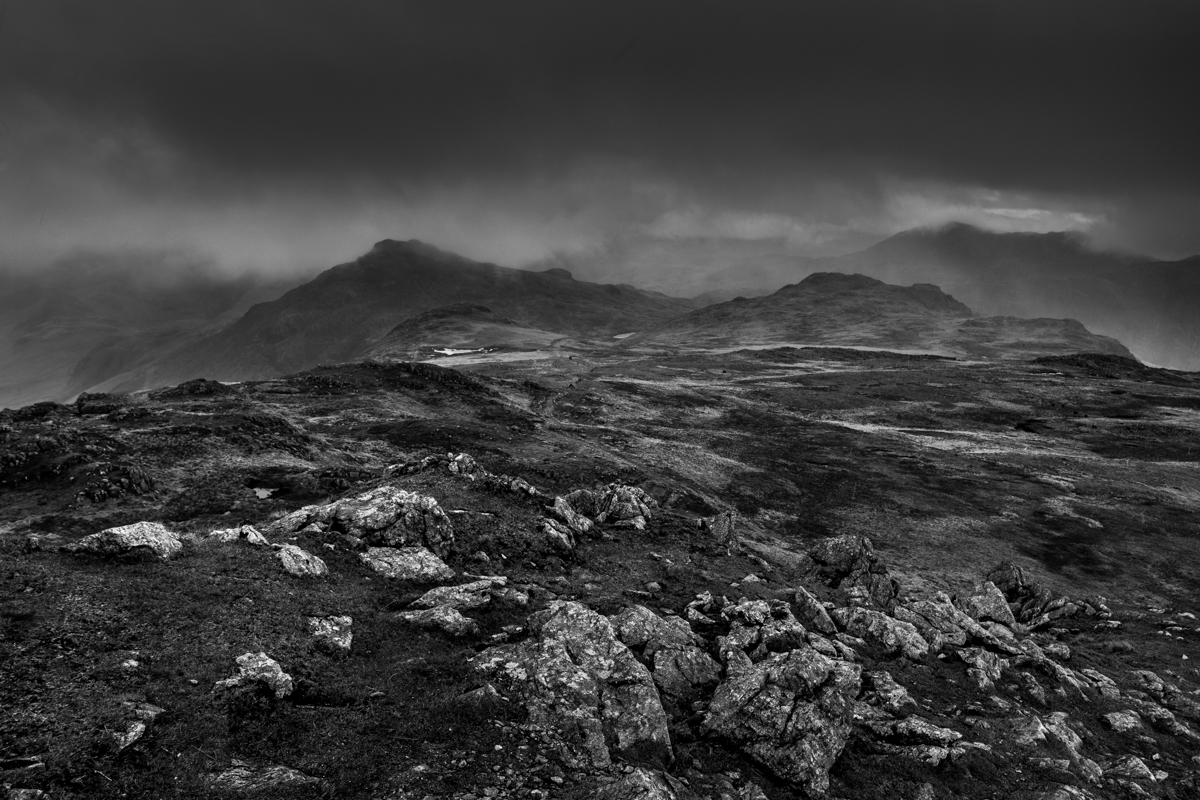 It has been almost three months since I last posted on my blog. What has happened? I don't know! I'm still struggling with motivation. I still have 12 rolls of film that are in need of developing. Photographically I have not actually done much since my last post. Motivation gone. From about mid-March I set about preparing for my Lake District trip.
If you are in the UK, did you love the 'Summer' we had in the early weeks of April. Glorious or what! Of course! The weather broke as soon as I set off for the Lake District on the 24th. Still, I consoled myself with the thought that as beautiful as it is clear blue skies makes for boring landscapes photography. Yeah, I know, pretty, but that big blue expanse needs some of that white fluffy stuff in it. Big bright blue clear skies especially doesn't make for thrilling black and white pictures. Besides, being on a mountain in great weather is physically very hard. You de-hydrate like nobody's business and the risk of Sun stroke increases dramatically. You'll be very surprised that at even 1000m you catch the Sun very, very quickly. Soon, dehydration and Sunstroke can become serious problems. This means you have to carry much more fluid, Sun screen and clothing which increases the physical effort of climbing the mountain. I need not have worried!
Let me just back-track a couple of months to when I last climbed a mountain. I had with me my Fujifilm Fixepix S5 Pro and 17-70mm lens. Clawing my up this particular Welsh mountain reminded me of a few years previous when I was going over Crib Goch on Snowdon and thinking "why on Earth am I carrying all this heavy gear?" upon reaching home I decided to sell my beloved S5 , it is just too big and heavy and very cumbersome when it is going in and out of your rucksack when trying to catch the fleeting light of intermittent Welsh weather. You're faffing about with all the camera stuff and so focussed on watching the weather and light that the enjoyment of the climb just disappears into a cloud of frustration. So, the wonderful S5 was sold. I risked purchasing the Samsung NX300 and a 16-50mm power zoom lens. The NX300 is an amazingly small and light mirrorless camera that I can hide under my Gore-Tex jacket in inclement weather. It also means that I don't feel the weight and I can have the camera ready for action much, much quicker. It's ready to shoot at a moments notice. No more faffing about with getting the rucksack off, opening rucksack, getting camera out… etc. etc. etc.
On the gear list was my new iPhone 6 Plus. The Rolleiflex 2.8C, the Yashica Mat 124G and a small Canon MC (Micro Compact) 35mm film camera with its very sharp 35mm f/2.8 lens. Together with a handful of 35mm and 120 roll film I was all set. The untried NX300 and iPhone 6 Plus were concerning unknown factors. But I thought "what the Hell" and took the risk. I was going to the Lake District for the Fell walking and good pictures are a bonus not the object.
The day before I set off, as I have mentioned, the weather changed. From that wonderful glorious Sun the forecast for my Lake District week was overcast, some Sunny intervals and heavy rain showers. Great!
The first Fell walk was Pike O'Blisco and Crinkle Crags. Seven miles in the gloom and amazingly much to my surprise, it started to snow. SNOW! It's almost May and there's SNOW! I had the NX300 tucked safely under the Gore-Tex and the Rolleiflex in the rucksack. Too heavy! That was the last time I took the Rolleiflex over a mountain.
The following day was an early start, glorious Sun and a long trip to Sca Fell via the amazing Lord's Rake (google it). I decided to get to Wasdale Head via  Wrynose Pass and Hardnott Pass which is an adventure in its own right. The approach to the Sca Fell summit is straight forward. Up Lingmell and summit Lingmell, cut across and below Pikes Crag and Pulpit Rock of Sca Fell Pikes. From there a light scramble up to Mickledore which is the sharp narrow col between Sca Fell Pike and Sca Fell before scrambling down to begin the accent of Lord's Rake and then on to the summit. A round trip of just over seven miles. For this trip I had the NX300 around my neck and under the protection of the Gore-Tex performance shell. In the pocket I had the Canon MC loaded with HP5+ film. I minimise everything in the rucksack and travelled as light as possible. What a relief that was! Much more enjoyable as well. No more digging around in the rucksack. Cameras at hand and ready to go into action in a few seconds. It was just wonderful to travel so light. The Sca Fell trip proved to be the pattern for the rest of my stay. I did shoot with both the Rolleiflex and the Yashica 124G when not on a mountain.
During the week I managed to do the Fairfield Horseshore, the Helvellyn ridge plus a couple of smaller fells. A total of 14 Wainwrights and a little over 37 miles in six days. Phew! I am still knackered!
Altogether I shot 721 'frames' on the NX300, 183 on the iPhone 6 Plus, 3 rolls of HP5+ in 35mm and 4 rolls of HP5+ in 120 format. At some time I will actually develop those films.
What about the iPhone, well, I am going to deal with that in a separate post. …and the NX300? I am very surprised at how good this practically weightless mirrorless camera is! I am very pleased with the results, certainly not competition winners by any means, but I am pleased. Out of the 700 odd (yeah! I got a little carried away - that's what digital does to you) I have culled them to this selection. I hope you think they are OK.